Some of us have the need for speed we push the limits. We look to improve our truck or cars performance with add ons. So when we push the limits we really need to up our protection game. That is where AMSOIL comes in it offers protection through out your vehicle.
I have had first hand experience with  AMSOIL for years. It is the only oil I use in my Chevrolet Silverado with a Duramax Diesel, Honda Accord, Honda CRV, my beloved 32 Ford Roadster, Harley Davidson Street Glide, Polaris XPT, Toro zero turn, Honda snow blower, Yamaha Outboard, and Onan generator. Yeah I buy a lot of AMSOIL but they make it easy and I sleep well at night knowing I have great protection.
Enjoy this article and remember Preferred Customers receive 25% off on all products and free shipping on all orders 100.00 or more. Shop now

Although you may equate engine wear and deposits with sudden, catastrophic engine failure, they are more likely to erode engine power and efficiency over time. Here's how it works and what you can do about it.
Several factors cause an engine to slowly lose power, but one of the primary reasons includes compression loss due to wear and deposits.
Engine compression = power
For your engine to produce maximum power, the combustion chamber must seal completely during the compression and combustion strokes. Wear and deposits can prevent the valves or piston rings from sealing, allowing pressurized gases to escape the combustion chamber and take potential engine power with them.
To illustrate, imagine using a hydraulic floor jack. Pumping the handle will raise the vehicle as long as the release valve is tightly seated and doesn't leak. A poorly sealed release valve, however, allows pressure to escape, causing the vehicle to sink to the ground no matter how much you pump the jack handle.
The same principle applies inside your engine. If some of the pressure created during the compression and combustion strokes is lost due to valves and piston rings that don't seal completely, the engine will create less power.
Wear & deposits reduce compression
Over time, deposits or valve wear can prevent the valves from closing completely, interfering with a good seal. Wear can also interfere with proper valve operation, disrupting optimum fuel/air flow.
Worn or stuck piston rings produce the same effect. The rings are designed to move freely in their grooves and press tightly against the cylinder wall, forming a seal that prevents fuel/air from escaping. Ring wear can interfere with formation of a tight seal, while deposit buildup can cause the rings to stick in their grooves, also preventing a good seal. As a result, some fuel/air escapes the combustion chamber during compression, reducing power. On the combustion stroke, pressurized gases can blow by the rings and travel down the cylinder wall and into the oil sump, taking potential power with them. This is what's meant when someone says an engine has lost compression.
AMSOIL Signature Series helps prevent the problem
AMSOIL Signature Series Synthetic Motor Oil provides 75 percent more engine protection against horsepower loss and wear than required by a leading industry standard*, extending the life of vital components like pistons and cams. In addition, it prevents piston deposits 93 percent better than required to meet the latest API standard.* Its outstanding performance helps prevent deposits and wear that rob engines of horsepower, helping preserve that like-new feeling you crave when driving.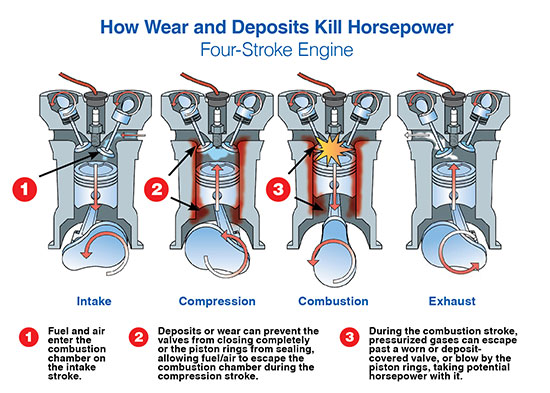 *Based on independent testing of AMSOIL Signature Series 5W-30, in ASTM D7320 as required by API SN specification.
Enjoy this article and remember Preferred Customers receive 25% off on all products and free shipping on all orders 100.00 or more. Shop now