We can all agree that changing your oil is key to longer engine life. Using a quality filter can keep that oil cleaner longer, with extended service intervals and absolute efficiency. I trust AMSOIL to get the very best out of my oil.
I have had first hand experience with  AMSOIL for years. It is the only oil I use in my Chevrolet Silverado with a Duramax Diesel, Honda Accord, Honda CRV, my beloved 32 Ford Roadster, Harley Davidson Street Glide, Polaris XPT, Toro zero turn, Honda snow blower, Yamaha Outboard, and Onan generator. Yeah I buy a lot of AMSOIL but they make it easy and I sleep well at night knowing I have great protection. Enjoy this article and remember Preferred Customers receive 25% off on all products and free shipping on all orders 100.00 or more. Shop now

Testing proves AMSOIL Signature Series 5W-30 Synthetic Motor Oil provides more complete protection against damaging deposits than its competitors.
The push toward smaller, fuel-efficient yet powerful engines has driven the development of several key technologies. Gasoline direct injection (GDI) and turbochargers are now common features of passenger cars and light trucks. By 2020, industry experts predict that nearly every new vehicle will feature GDI technology, and the vast majority will be turbocharged. While these advanced technologies enhance performance, they also present serious challenges to motor oil.
The Turbocharger Trade-Off
Turbochargers push more air into the engine's combustion chamber, providing better fuel-economy and performance but also creating intense engine temperatures. They often operate above 150,000 rpm on exhaust gases exceeding 1000°F. These extreme conditions cause some motor oils to break down and solidify into harmful deposits.
Vehicle manufacturers have long recommended different service intervals based on "normal" or "severe" driving conditions. Turbocharged vehicles are automatically included in the severe service category due to the extreme heat they generate. Motor oil with unique properties is required to combat the effects of intense temperatures.
Proof of Protection
AMSOIL Signature Series 5W-30 Synthetic Motor Oil was tested against two competing brands to determine its level of protection against deposit formation in high-heat applications.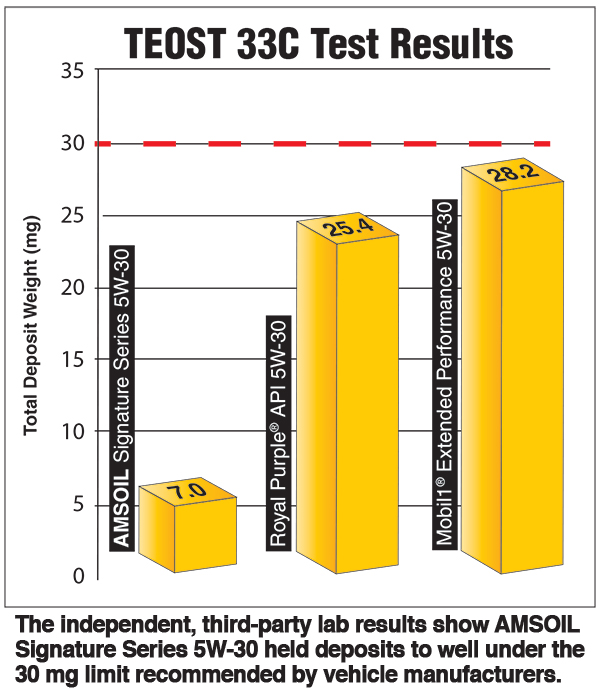 The TEOST 33C test (ASTM D6335) is an industry-standard bench test that simulates turbocharger operating conditions. According to the American Society for Testing and Materials (ASTM), it is "designed to predict the high temperature deposit forming tendencies of an engine oil." To meet the API SN Resource Conserving and ILSAC GF-5 motor oil specifications that are often recommended by vehicle manufacturers, a 5W-30 motor oil must limit total deposit formation to 30 mg or less.
AMSOIL Signature Series 5W-30 Synthetic Motor Oil held the total weight of deposits to 7 mg, well under the 30 mg limit required by the API and ILSAC, while Royal Purple® API 5W-30 and Mobil1® Extended Performance 5W-30 came in just under the limit at 25.4 mg and 28.2 mg respectively. Signature Series 5W-30 Synthetic Motor Oil protects against harmful deposits on turbochargers 4X better than Mobil1® Extended Performance and 3.6X better than Royal Purple® in industry-standard testing*.
*Based on independent, third-party testing of AMSOIL® Signature Series 5W-30, Mobil1® Extended Performance 5W-30 and Royal Purple® API 5W-30 in the ASTM D6335 bench test required by the API SN Resource Conserving specification.
Test results represent the formulations available as of April 2016. Formulations were coded to eliminate bias during testing and samples were tested in random order. An appropriate number of trials of each oil were run to produce results at or above the 95 percent confidence level when compared to AMSOIL Signature Series 5W-30 Synthetic Motor Oil.
Preferred Customers receive 25% off on all products and free shipping on all orders 100.00 or more. Shop now