We ride our ATV"s in some extreme conditions. From snowy Washington mountain trails, or through the Arizona desert with dust and high heat. Rock crawling in Moab can cause high motor temperatures and extra strain on the differentials. I spend a lot of time at the Oregon Dunes sand gets in everything. We change our oil often. Formula $-stroke Power Sports Synthetic Oil from AMSOIL is an oil that you can trust. You can save money on this oil by becoming a preferred customer. You can also get free shipping on orders 100.00 or more. Save money save time AMSOIL.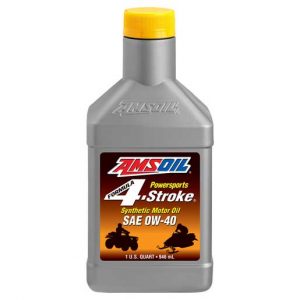 Formulated for Top ATV and Snowmobile Performance
Specially formulated for 4-stroke recreational motors, ATVs and snowmobiles. Reduces wear. Wet-clutch compatible. Contains no friction modifiers. Broad viscosity range makes it excellent for use in both hot and cold weather conditions.