I have had first hand experience with  AMSOIL for years. It is the only oil I use in my Diesel truck, Honda Accord, Honda CRV, my beloved 32 Ford Roadster, Harley Davidson Street Glide, Polaris XPT, Toro zero turn, Honda snow blower, Yamaha Outboard, and Onan generator. Yeah I buy a lot of AMSOIL but they make it easy and I sleep well at night knowing I have great protection. Enjoy this article and remember
Preferred Customers receive 25% off on all products and free shipping on all orders 100.00 or more. Shop now
r

Generally speaking, the higher an oil's total base number (TBN), the better its ability to neutralize contaminants such as combustion byproducts and acidic materials. TBN is a measure of alkaline additives in the oil. Higher TBN oils neutralize a greater amount of acidic materials, which results in improved protection against corrosive reactions and longer oil life.TBN levels are targeted for the intended application. For example, gasoline motor oils typically display lower TBN numbers, while diesel oils must manage the high contaminant-loading from soot and sulfur and typically have a higher TBN.TBN levels decrease as the oil remains in service. When the level reaches a point where it can no longer protect against corrosion, the oil must be changed.

Oils that are formulated specifically for extended drain intervals typically display elevated TBN to ensure proper corrosion protection for the duration of the extended interval.

Signature Series neutralizes acids

Because AMSOIL synthetic lubricants demonstrate consistently high TBNs, they neutralize acidic contaminants and keep them in suspension to prevent corrosion, maximizing engine protection. They use detergent and dispersant additives to significantly reduce sludge and carbon deposit formation.

In industry-standard testing, Signature Series Synthetic Motor Oil delivers 30% more acid neutralizing power than Mobil 1,* and 36% more than Royal Purple,*helping engines to stay cleaner, longer.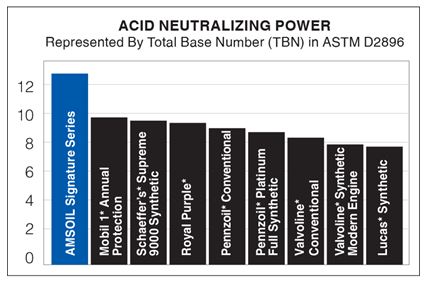 EBased upon independent testing of Mobil 1 Annual Protection 5W-30, Royal Purple High Performance 5W-30, Schaeffer's Supreme 9000 Full Synthetic 5W-30, Royal Purple High Performance 5W-30, Pennzoil 5W-30, Pennzoil Platinum Full Synthetic 5W-30, Valvoline Conventional Daily Protection 5W-30, Valvoline Full Synthetic Modern Engine 5W-30, Lucas Synthetic 5W-30 and AMSOIL Signature Series 5W-30 in ASTM D2896. Oils purchased 05/03/18. *All trademarked names and images are the property of their respective owners and may be registered marks in some countries. No affiliation or endorsement claim, expressed or implied, is made by their use.
Preferred Customers receive 25% off on all products and free shipping on all orders 100.00 or more. Shop now