We commute to work maybe an hour or more, spend at least 40 hrs at work each week.  During that time we dream about the weekend or a long planned vacation.The one thing we don't want is that when the big day arrives and the boat is launched and we hear the dreaded clunk. Oh no… yeah. boat trouble. Now we spend what would be our timeout on the water, working on the boat.  In my onion nothing could be more frustrating. Most of the time it is simple maintenance. The small things you can do to maintain your boat, so it is ready when you are. It also means picking the right oil to protect your investments. I choose AMSOIL.
I have had first hand experience with  AMSOIL for years. It is the only oil I use in my Chevrolet Silverado with a Duramax Diesel, Honda Accord, Honda CRV, my beloved 32 Ford Roadster, Harley Davidson Street Glide, Polaris XPT, Toro zero turn, Honda snow blower, Yamaha Outboard, and Onan generator. Yeah I buy a lot of AMSOIL but they make it easy and I sleep well at night knowing I have great protection. Enjoy this article and remember Preferred Customers receive 25% off on all products and free shipping on all orders 100.00 or more. Shop now

So many variables determine the life expectancy of an outboard motor that it's hard to predict with any accuracy how long an outboard motor will run.
But almost anyone would agree that a 1974 Evinrude that is still performing well in 2017 is unusual. If you're the guy who got it for free, you're thrilled.
Dealer Mark Neibuhr of Sequim, Wash. has a 1974 Evinrude Silver Starflite 135 hp outboard that he still uses. "I acquired this boat around '93 or '94, (totally stripped and gutted) and was given the outboard, which needed rebuilding," Neibuhr said.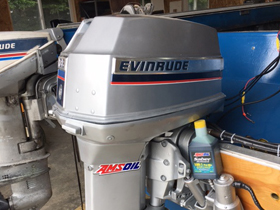 It was 2001 when he had the boat seaworthy and the Evinrude rebuilt, he said.
He used the boat in Louisiana before he installed AMSOIL products, Neibuhr said. He had installed the AMSOIL 100:1 oil when he was in Wisconsin, where the boat was used almost exclusively for water skiing in Lake Nebagamon, a small lake in the northern part of the state. Since 2012, he's used the boat for salmon fishing and crabbing in the salt water of Washington's Puget sound.
"After many years and hundreds of hours of use in Louisiana and Wisconsin, I moved west to Washington in 2012, where I continue using the boat in the salt water," Neibuhr said. "It's still going very strong, like-new compression readings and super smooth running and plenty of power still."
Sometime in 2006 or 2007, Niebuhr started using AMSOIL Outboard Synthetic 2-Stroke Oil. "I immediately noticed a big reduction in smoke, especially at idle speeds …," he said.
"The engine has never had any problems whatsoever while running AMSOIL 100:1 oil," Neibuhr said. "I recently had to open up the powerhead due to a water problem. Upon disassembly, I was amazed at the internal condition of the bearings, cylinder liners, piston and rings, and the overall cleanliness of the internal parts. Most impressive was the complete absence of carbon deposits on the piston tops and ring grooves. I was amazed that after almost 10 years of using AMSOIL the engine looked as good as it did when I rebuilt it in 2001."
Recently, he decided the boat and engine were overdue for painting and restoration.
"I did considerable research into the original colors and marking of the engine as it was in 1974, and the picture is as close as I could get," Neibuhr said. "The only difference was a small decal that had 'Silver Starflite' affixed to the mid section of the outboard. So I improvised and thought the people at AMSOIL would appreciate my 'creativity.'"
Customers receive 25% off on all products and free shipping on all orders 100.00 or more. Shop now